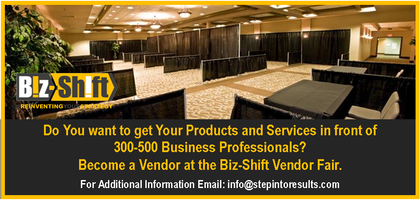 There are 300-500 Business Professionals expected to attend this event on November 6, 2014. There will be a Vendor Fair at the venue from 8:00 AM to 4:30 PM. Vendors will be provided with a 6′ table, internet access, and electrical outlets. Set-up for vendors will begin at 7:00 AM and break down must be complete by 5:00 PM.
Biz-Shift Workshop Registration will begin at 8:00 AM for all participants attending event. Biz-Shift sessions begin promptly at 9:00 AM and will end promptly at 4:00 PM. Participants will be given breaks through out the day including a one hour lunch period. Participants will be able to visit the Vendor Fair from 8:00 AM to 9:00 AM, during breaks, the lunch hour and from 4:00 PM to 4:30 PM. It is recommended that all vendors be at their tables for the entire duration of this event day. Vendor tables are not to be left unattended.
Vendor space is limited and this will be handled on a first come, first served basis. For additional information or questions about being a vendor at this event, please email: info@stepintoresults.com.